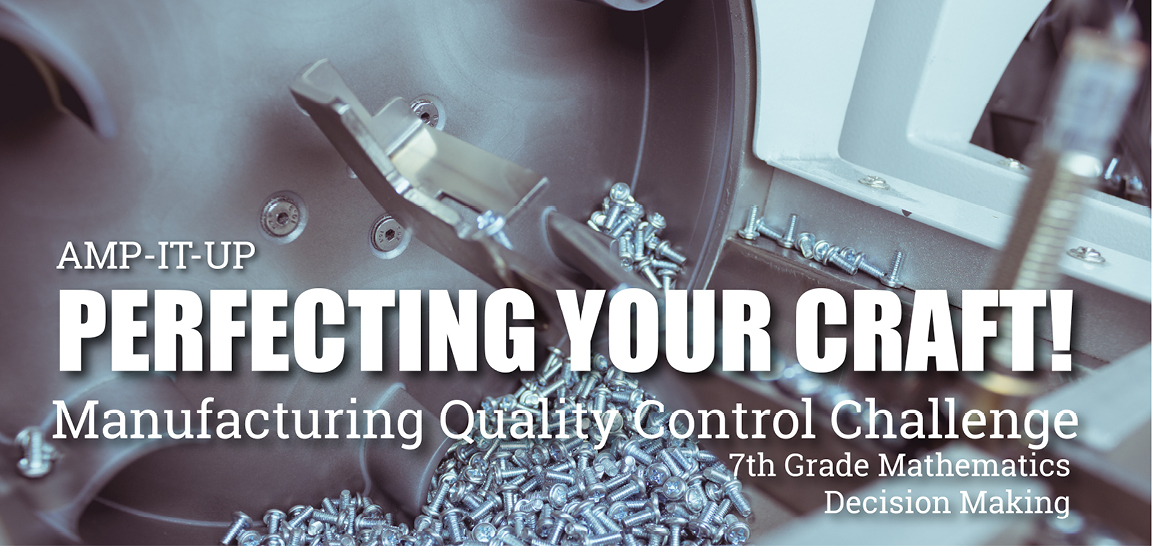 Module Summary: AMP-IT-UP - Perfecting Your Craft
Students use inference and measures of center and variability to investigate the error rate of random samples of hex nuts to determine if a manufacturing production line has exceeded the allowable error and needs to be repaired. In the process, they learn how sample size affects results.
Link to Lesson Plan PDF (pending)
For Teachers:
- The teacher edition of the Manufacturing Quality Control Challenge curriculum that has been annotated with notes and tips for teachers.
- Instructions on how to implement the module. Includes information about the standards that the module addresses and how to incorporate the 5E learning model.
- List of all materials that are needed for the module. List includes the cost and vendors of the materials.
- Spreadsheet used to check that all materials needed for the module are present.
- STL file for 3D printer of the MQC device.
- STL file for 3D printer of the MQC scoop.
For Students:
- The module curriculum booklet for students.
- The worksheets that students will need to complete the module.
Videos:
Video - DIY: Hardware Inspired Jewelry- A video showing how to make jewelry using items from a hardware store.
Video - Quality Control Director Interview - A video of an interview with a Quality Control Director.
Video - Nuts and Bolts Production Line - A video showing the process of how nuts and bolts are made.
Complete Set of Module Files:
Download a complete package of the module here